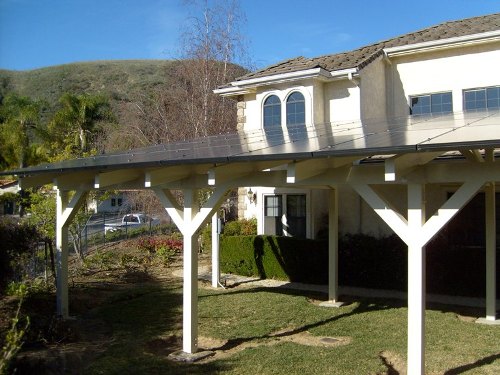 Patio Shade Structures by Coastal Solar

In November of 2009 we received a call from a customer who wanted a 8Kw system with but his roof was tile and very "cut up" which is construction nomenclature for lots of angles an small areas with no large prevailing roof plane on which we could mount solar panels.

In addition to being solar installers our other company, Coastal Constructors inc., is also a general contractor as well as an electrical contractor. We knew the project was a great fit for us.

We met with the client and teased out his vision of a simple, elegant, but heavy duty structure (for aesthetic reasons and longevity) and provided him with a quote. His feedback was that our price was better than the competition; presumably because we were able to do the whole project in house. During the bidding process, one of the other solar contractors inadvertently called us and asked if we could bid on the patio structure without realizing we had already bid the whole job.

The project was a complete success and was definitely one for our portfolio; especially once the customer finishes the pavers he has planned for below the array. We have taken this approach with solar installations that required new roofing other construction as well. As with any construction project economies of scale mean the more you can have done at once the more you save.

There are even more reasons than the aforementioned why having installers with a wide knowledge of general construction practices can be beneficial. So the next time a solar salesman tells you not to hire a company that also offers other services in addition to solar think twice.